Why floating wind is the next frontier in offshore
Gabriel Davies, Programme Director for Floating Wind, Ørsted

"Floating offshore wind –
which poses both a
solution and a challenge –
is the next frontier"

Creating a world that runs entirely on green energy requires human imagination, creativity, intelligence and even audacity.
As global leaders in offshore wind, Ørsted knows that. We've used all those skills to help the UK become the world leader in offshore wind.
Now floating offshore wind – which poses both a solution and a challenge – is the next frontier, offering the possibility of even greater sources of renewable energy.

Ambitious targets
The UK has been a champion of offshore wind for over a decade, helping the industry grow and mature. As offshore wind has scaled up – so has the UK's appetite for more – now setting an ambitious target of 50GW for installed capacity by 2030.

We applaud the UK's bold ambition and its willingness to support pioneering and transformative new energy technologies by making floating offshore wind – at 5GW – a significant part of the 2030 target.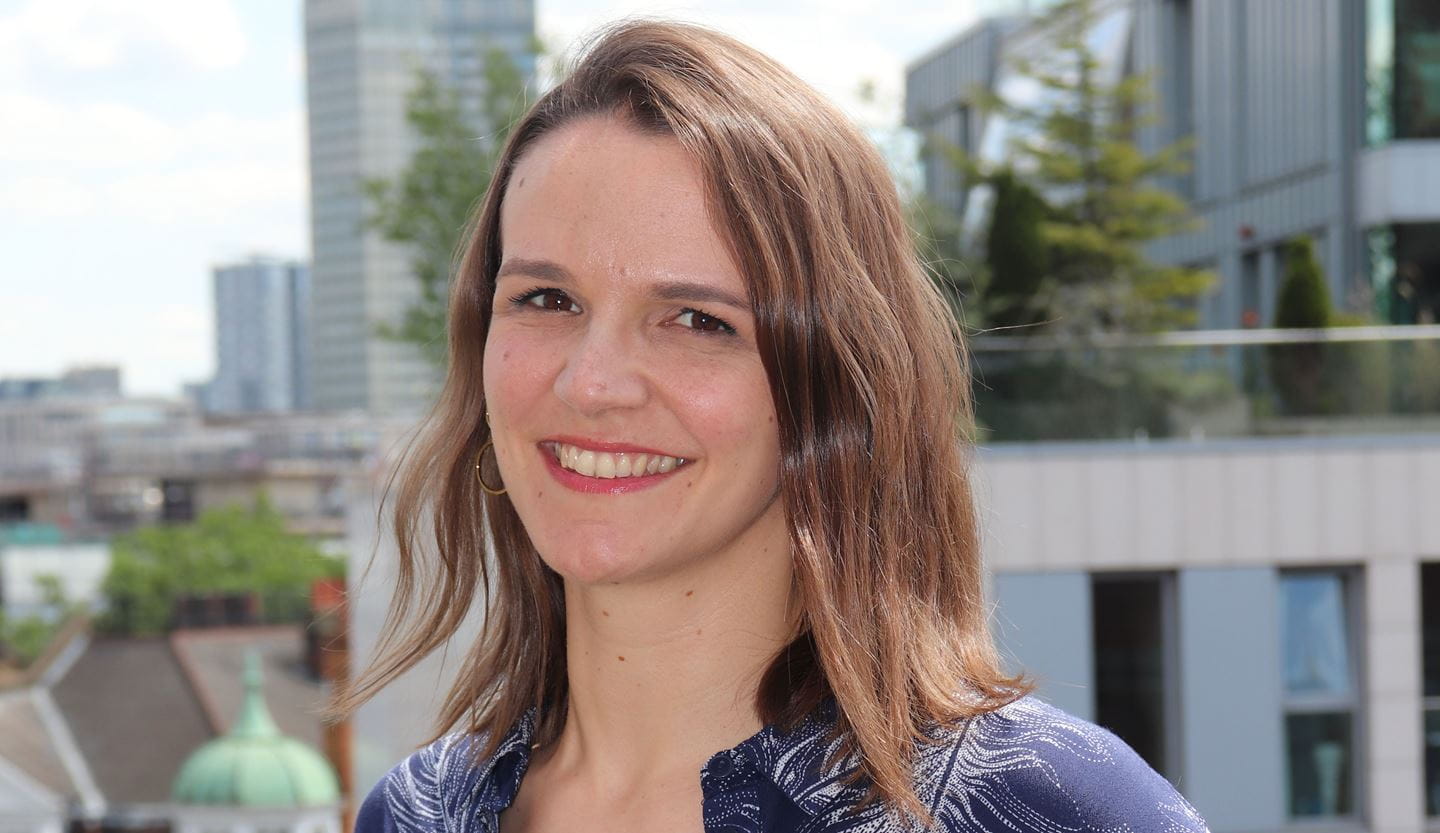 Gabriel Davies, Programme Director for Floating Wind, Ørsted
Floating offshore wind farms are defined as turbines – and potentially substations – that are installed on floating foundations anchored to the sea floor with mooring lines. These floating foundations are required in particularly deep waters where bottom-fixed foundations are impractical or infeasible.

Floating technology has the potential to bring offshore wind to new markets around the world where in the past, the water depths were considered prohibitively deep for bottom-fixed turbines.

In the UK, floating technology would allow us to access sites with even greater wind resource, and in areas where the risks of impacts on other ocean users are lower.

However, the technology is still evolving. And every project is different according to variables such as wind and ocean conditions, water depth, local supply chain capacity, and stakeholder needs. This means that costs in floating are wind are highly uncertain.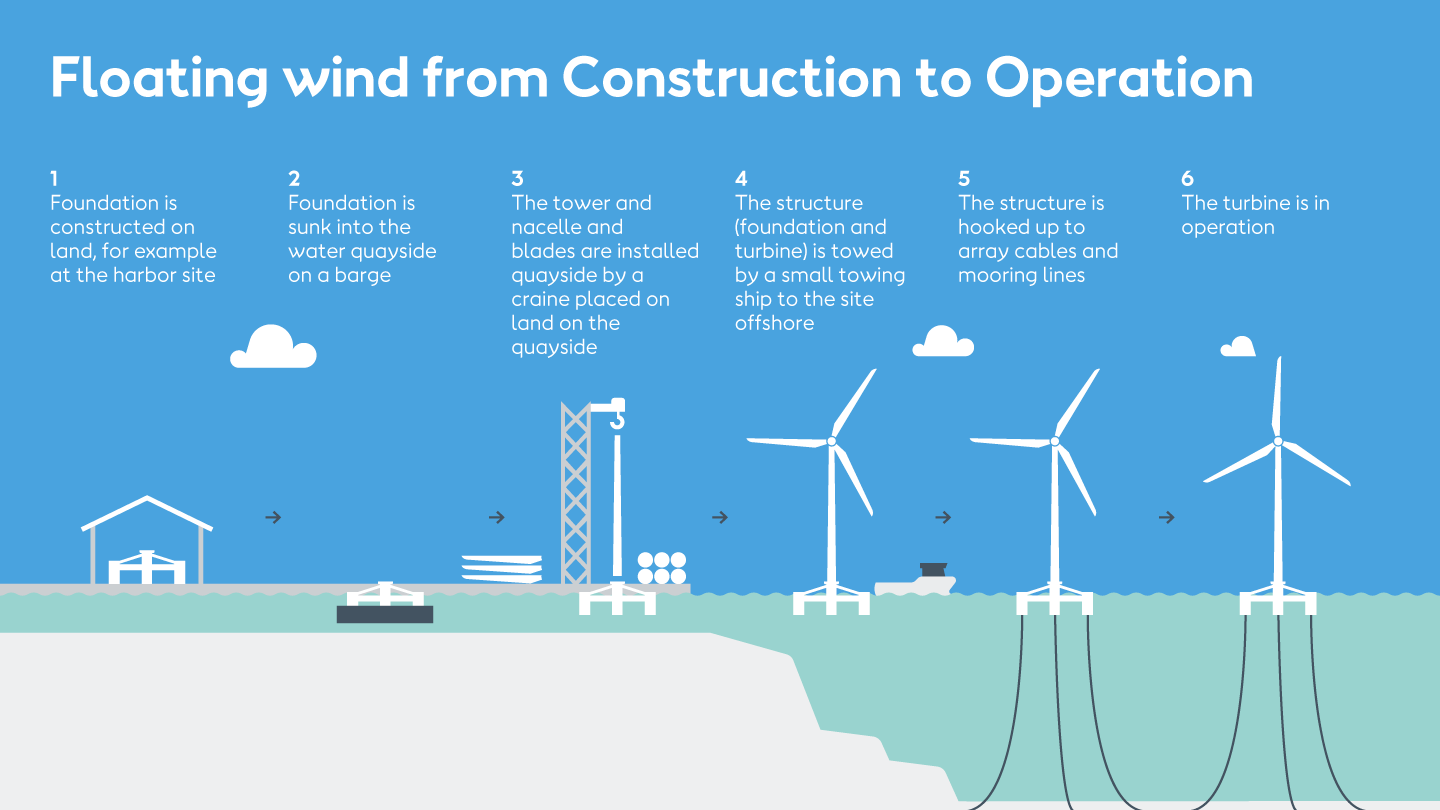 Graphic showing the deployment of floating offshore wind
Catalysts for innovation
But we are undaunted by uncertainty.

As the builder and developer of the world's biggest offshore wind farm, Hornsea 2, off the Yorkshire coast, Ørsted is uniquely suited to tackle the challenge. With UK partners, we can help develop a global supply chain to match the growing global market for floating.

As industry leaders, we've always been catalysts for innovation, which contributed to our success with making bottom-fixed offshore wind a competitive renewable technology. We are confident that we can bring these skills to bear again to develop floating technology and drive down costs while building up a successful supply chain that creates thousands of skilled jobs.
Learn how Ørsted is partnering with other leading solutions providers to develop and mature floating wind and to realise its great potential.
Working to bring a nascent industry to scale
So, we are diving in. We have won a 1GW floating wind project off the north-east coast of Scotland with our partners, Falck Renewables and Blue Float Energy.

The proposed floating offshore wind farm will be known as Stromar. It will be Ørsted's first large-scale floating wind development project anywhere in the world, and it will expand our footprint from onshore wind to offshore wind in Scotland.

Furthermore, to help take the technology towards that industrial level, we have acquired a majority stake in the 100MW Salamander floating project off the east coast of Scotland.

This highly innovative project is designed as a stepping-stone for floating wind technology developers, supply chains and stakeholders, supporting the cost reduction and learning journey needed for the commercial deployment of floating offshore wind.
It will demonstrate that floating wind can be deployed at scale, while utilising and kick-starting local supply chains and creating local jobs. It will also show that floating wind can operate in harmony with other existing users of the sea.

With these projects, and with more potential opportunities on the horizon in the Celtic Sea, we'll help Scotland and the UK cement their place as world leaders in floating offshore wind as the industry grows in the coming decades.

And while Salamander and Stromar are two of the most progressed of our projects, we are also working with industry partners in Norway, Spain and the Asia-Pacific region to mature floating offshore wind.

We look forward to working with our partners in the UK and globally to overcome technical challenges, create jobs, and bring this nascent industry to scale.
Gabriel Davies is the Programme Director for Floating Wind at Ørsted. She will be discussing the future of floating wind at the Global Offshore Wind Conference in Manchester on 21-22 June.