Burbo Bank offshore windfarm workers move in to new £6 million Wirral base
2017-08-04T07:00:00.0000000Z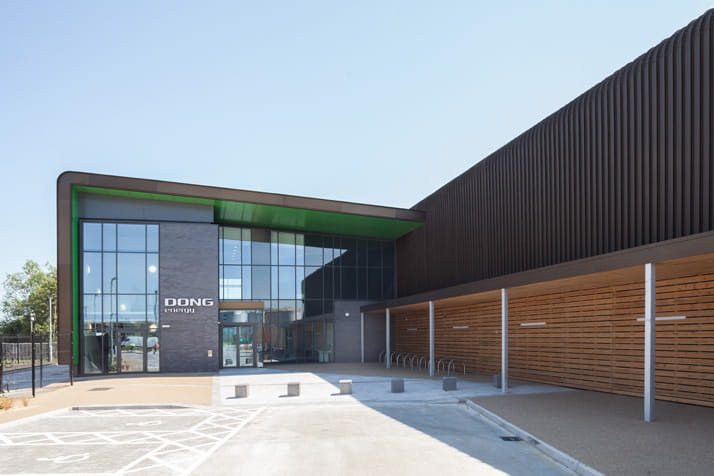 Construction has finished on DONG Energy's brand new offshore wind farm operations base on the bank of the Mersey. The keys were officially handed over this week [03 August 2017] and after the team has spent some time has settling in, DONG Energy will hold a celebratory event later in the year.

The multi-million pound facility at Kings Wharf, Seacombe will serve both Burbo Bank offshore windfarm and the new Burbo Bank Extension which opened in May this year. Combined, the windfarms have enough capacity to power over 310,000 homes each year.

Around 75 people were employed during the construction phase, which began in August 2016, and once fully operational around 45 people will be permanently based at the site.

The brand new two-storey building will be used for the storage of materials and equipment required for the ongoing maintenance of the wind farms, as well as office facilities and parking for staff. A new ladder on the quay wall will enable boats to "push on" directly, allowing easy access for technicians to board.

The area in front of the facility has also been restored, including new benches and granite paving, as part of DONG Energy and Robertson's commitments to the local community.

Lee Rollason, head of Burbo Bank operations, said: "Having operated out of Liverpool for over ten years DONG Energy is committed to investing in the North and this state of the art facility is another example of that. To have both our windfarms operating from here makes complete sense in terms of efficiencies and the site has excellent access offshore. We are proud to be operating from an important docklands location.

"As a local resident, I'm certainly pleased with the part we've had to play in regenerating this area. We've spent around £100,000 on the public pathway in front of the facility and it's great to see the community using this space already and receive positive comments from people appreciating this beautiful view of the Mersey."

Both DONG Energy and Robertson North West wanted to ensure the community was kept up to date with activities during the build, so kept close contact via newsletters and social media. Representatives from Robertson North West visited local schools and career fairs, and to celebrate the changing landscape both companies worked with Fine Art students from Wirral Metropolitan College and lecturers from LJMU to design a hoarding which was displayed on the banks of the Mersey containing poetic quotes from the students about how they feel about the changing horizons of the Mersey and the Wirral.

Darren Sterling Operations Director, Robertson Construction North West, said: "We are delighted to have completed this project that will help to deliver power to over 310,000 homes each year.

"Throughout construction, Robertson has partnered with DONG to connect with the local community and involve them throughout the construction, and we are proud of what has been achieved."


DONG Energy in the North West
DONG Energy has been operating out of Liverpool for over a decade:
DONG Energy sustained pipeline of offshore wind farms in the North West represents a £5.4 billion investment over the period of 2005 – 2019
DONG Energy's two offshore windfarms off the coast of Liverpool Bay generate enough clean energy for over 310,000 homes.
Burbo Bank, opened in 2007 and was the first offshore windfarm to demonstrate 3.6MW turbine technology. In 2017, DONG Energy again raised the bar by being the first company in the world to install 8MW turbines, pushing innovation and driving down costs for the industry.
DONG Energy is building a multi-million pound operations and maintenance centre at Kings Wharf. It will serve both the windfarms and around 45 people will be employed at the site when it is operational.
DONG Energy has committed to a Burbo Bank Extension Community Fund worth approximately £225,000 each year for the lifetime of the Project. The fund benefits local community groups and organisations in the local area, for example the New Brighton Mermaid Trail.
DONG Energy has partnered with the education charity Teach First to address educational inequalities in the North, supporting Teach First on improving teacher attraction and retention, and pupil progression in Merseyside.
DONG Energy's nationwide partnership with the RNLI includes funding the running costs of the RNLI station in New Brighton.
About DONG Energy:
DONG Energy (NASDAQ OMX: DENERG) is one of Northern Europe's leading energy groups and is headquartered in Denmark. Around 6,200 ambitious employees, including over 900 in the UK, develop, construct and operate offshore wind farms, generate power and heat from our power stations as well as supply and trade in energy to wholesale, business and residential customers. The continuing part of the Group has approximately 5,800 employees and generated a revenue in 2016 of DKK 61 billion (EUR 8.2 billion). For further information, see www.dongenergy.co.uk or follow us @DONGEnergyUK on Twitter.