In partnership: Training young talent for careers in renewable energy
At Ørsted, we are proud of our partnerships with two University Technical Colleges (UTCs) in the Humber – Ron Dearing UTC in Hull and Engineering UTC Northern Lincolnshire in Scunthorpe. Their commitment to giving young people a vigorous education that prepares them for careers in Science, Technology, Engineering, and Maths (STEM) is unparalleled – and critical to the UK reaching its ambitious net-zero goals.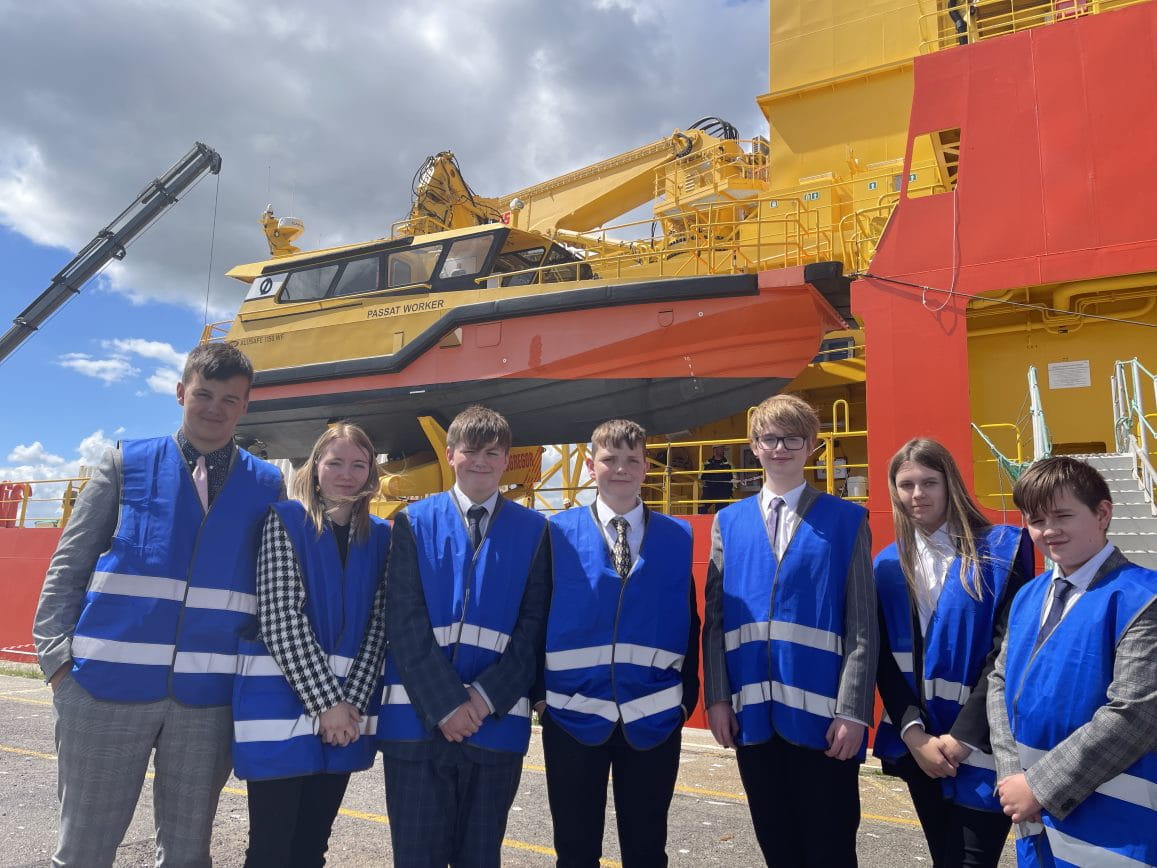 Students from Engineering UTC Northern Lincolnshire visit Ørsted's East Coast Hub in Grimsby during 2022.
Training young people for opportunities in the green energy sector

UTCs are government-funded schools that take a novel approach to education by working with industry to prepare 14–19-year-olds for the fast-changing landscape of the 21st century workplace.
Created in conjunction with companies and universities, UTCs aim to fill regional talent gaps by training young people in the practical and technical skills they will need to succeed in the local workplace.
In the case of the Humber region, that means training the next generation for STEM career opportunities in the fast-growing renewable energy sector.
"Our investments and partnerships in UTCs are important steps to help young people be work ready"
Rob Howes, Lead Apprentice Specialist at Ørsted, said: "Ørsted is always thinking about the next step, and this includes future engineers. Our investments and partnerships in UTCs are important steps to help young people be work ready. Not everyone learns the same, and to be able to support technical education pathways through specialist UTCs means we can strengthen the pipeline of talent to the renewable energy industry. We're proud to be an industry and employer partner of UTCs to discuss what the industry needs and influence the training to future proof people's skills."
The offshore wind industry alone is expected to employ approximately 100,000 people in the UK by 2030, according to a 2022 report by the Offshore Wind Industry Council. With the industry currently employing about 31,000 people – that will require extensive job training to reach the UK's ambitious goal of 50GW of offshore wind by 2030.
Organisations like EngineeringUK have warned that a growing talent gap in engineering and technical skills could potentially jeopardise the UK's net-zero ambitions.
That's why we are so proud to support the important work of UTCs in the Humber region where much of the growth will be realised. The region is already home to a number of groundbreaking offshore wind projects, including our own Hornsea 2, currently the world's largest offshore wind farm, with many more in the pipeline.
The UTCs offer a great opportunity to introduce young people in the Humber region to the application process for our three-year Ørsted Apprenticeship Programme. The programme is geared toward building a strong foundation for the next generation of offshore wind technicians through a combination of classroom-learning and on-the-job training.
Ron Dearing UTC
We've supported the Ron Dearing UTC in Hull as a major partner since its opening in 2017 and are incredibly proud of their success.
The employer-led learning institution that specializes in training students for careers in digital technology, engineering, and creative sectors, has been judged "outstanding" by Ofsted in all areas.
In 2022, it was also ranked number one – out of more than 4,500 schools – for the number of students moving on to apprenticeships after sixth form.
The school's unique curriculum created in conjunction with the region's leading employers to address the STEM skills gap has been such a success that it has been over-subscribed every year since its opening.
We've been pleased to financially support the school's Ørsted library for many years as a top-notch facility for student research and independent study.
We also made a substantial financial contribution toward the UTC's exciting new expansion, which allows an additional 200 students, bringing its total capacity to 800. The facility, STEAM Studios, opened in September 2023 is a state of the art creative hub, with a renewed focus on decarbonisation, sustainability, and renewables, the expansion supports the Humber's growth as a leading hub for green energy technology.

Glenn Jensen, Senior Assistant Principal at Ron Dearing UTC, said: "Through employer-led projects that focus on the importance of sustainability, Ørsted helps to ensure the future talent for the sector have the knowledge and skills to be able to make a real difference on the UK's journey to net-zero."
Jensen added: "Their continued support enables students to access the diverse career paths available in the renewable's industry."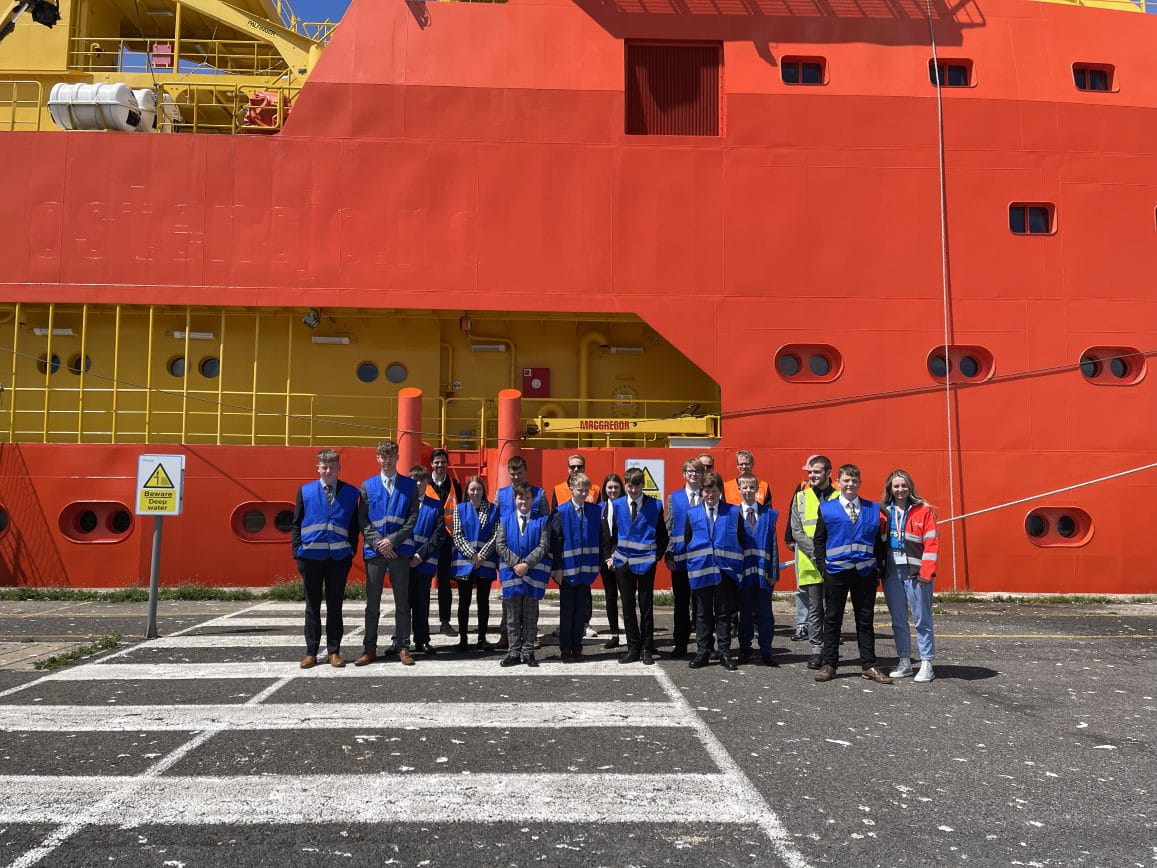 Engineering UTC Northern Lincolnshire

We have also enthusiastically supported the Engineering UTC Northern Lincolnshire (ENLUTC) in Scunthorpe since its opening in 2015.
As a "core industry partner" with ENLUTC, we support lunch and learn sessions, career fairs and student visits to our East Coast Hub visitor centre in Grimsby.
As part of ENLUTC's effort to teach young people the expertise and skills necessary to meet the growing needs of the offshore wind industry, we make sure they have an opportunity to engage with and learn from our Ørsted teams.
Students also participate in two Ørsted projects during the year focused on sustainability and offshore wind.
Jen Vincent, Director of Business Development at Engineering UTC Northern Lincolnshire, said: "We greatly value our ongoing relationship with Ørsted as a core partner. Ørsted supports us with developing and delivering our curriculum, linking it to the world of work and adding great worth to our STEM learning."
Vincent added, "By working in this partnership our students leave with a wealth of knowledge about successful and sustainable futures."